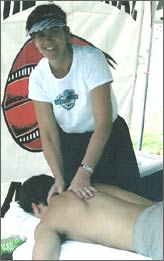 Different Strokes for Different Folks
Sports Massage blends deep Neuromuscular techniques with elements of Swedish and Japanese Acupressure to tailor the treatments to the client's individual needs and goals.
There are three aspects of Sports Massage:
Event Sports Massage focuses mainly on the muscle groups relevant to a particular sport, and may be received before, during or after the sporting event.
Regular Maintenance Sports Massage is used throughout training and off season training to enhance performance, and achieve peak performance potential.
Orthopedic Sports Medical Massage is used to speed up recovery and rehabilitation of muscle tendon joint related injuries and other overuse soft tissue injuries.
Massage Therapy Session Descriptions
Short Session - 30 minutes
Great for spot work or one area of focus. ideal for tendonitis injuries or overuse injuries, pre-event or mid event sports massage.
Short 2 Session - 45 minutes
Focus spot work on two areas.
Full Session - 60 minutes
"The traditional" - a full body session, mostly for relaxation, post event, maintenance or prevention massage during training.
Long Session - 75 minutes
When an hour just is not long enough. A full body session plus deep tissue work on an area that needs more attention and specific work.
Ideal for orthopedic sports medical massage, post surgery, or rehabilitation from injury.
Extra Long Session - 90 minutes
The Deluxe version of a Long Session. The Total Luxurious Bliss!
Ideal if you have two or more areas of concern or that you want to blend several modalities. For example, combine a full body massage with a manual lymph drainage, cranio-sacral or neuromuscular therapy.
Or if you are just seeking a little more TLC.